Monday, May 8th, 2023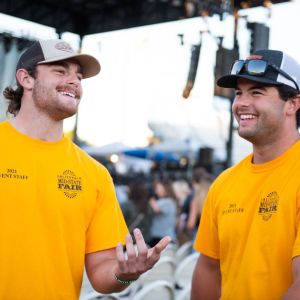 Online applications are now being accepted for multiple employment and volunteer opportunities at the 2023 California Mid-State Fair. The Fair is looking for people who would be interested in temporary work this summer in the categories of Admissions, Event Staff, Maintenance, and Stagehands.
In addition, the Fair's "Friends of the Fair" program is looking for people who wish to volunteer their time organizing and implementing the 2023 Fair. Volunteers truly bring the fairgrounds to life as they help manage the Exhibits program, decorate the buildings, and assist guests throughout the 12-day event. Volunteers are asked to dedicate at least 10 hours helping at one workday before the Fair and at least one 2-hour shift during the Fair.
Lastly, the Fair's "Junior Fairboard" program is looking for people ages 16 to 24 years of age living in San Luis Obispo County to volunteer. Members assist with the day-to-day operations of the annual Fair, including events like the Diaper Derby, Tractor Races, and more. In addition, members help in the livestock area, weigh-in and auction day, and act as ushers in the Main Grandstand. Members receive a shirt/jacket, admission to the Fair, meal tickets, and free guest passes.
To learn more and to apply to work and/or volunteer, please visit the Applications page on our website www.MidStateFair.com.
The 2023 California Mid-State Fair runs July 19 through July 30 and this year's theme is "Shake, Rattle & Roll!" Connect with us on Facebook, Instagram, Twitter and TikTok.