Monday, July 17th, 2017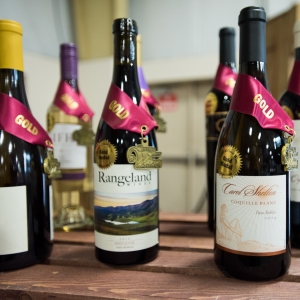 PASO ROBLES (CA) – The California Mid-State Fair (July 19-30) will hold its much-anticipated Wine Night at Mission Square on July 21.
Guests will have the opportunity to meet the winemakers and taste the 40 Gold Medal-winning wines from this year's Central Coast Wine Competition (CCWC). The evening will culminate with the CCWC's award ceremony announcing this year's award winner for Winery of the Year.
Wine Night will present awards honoring Winemaker of the Year, Christian Roguenant of Niven Family Wine Estates; Industry Person of the Year, Jason Haas, of Tablas Creek Vineyard; and Winegrape Grower of the Year, Lino Bozzano of Laetitia Vineyard & Winery.
Tickets for Wine Night are $30 on eventbrite.com, and $40 at the event, and does not include fair admission.
Event Details:
Location: Paso Robles Event Center - Mission Square
2198 Riverside Avenue
Time: Friday, July 21, 2017
Walk-Around Gold Medal Tasting from 5:00 PM – 6:30 PM
Awards Presentation at 6:30 PM
The 15th annual Central Coast Wine Competition (CCWC) blind-tasting event was held June 21-
22 at the California Mid-State Fair. The CCWC is the largest competition of wines produced and grown throughout the vast Central Coast wine region of California. The judging took place over two days; on the first day, the 19 judges blind tasted through nearly 700 wines, rating and then voting on which should be awarded a Gold Medal and Best in Class honor. The following day, the 67 Best in Class wines were blind tasted and awarded best Red, White, Rosé, Sparkling, and Dessert.
The Gold Medal-winning wineries featured on Wine Night will include:
Allegretto Vineyards
Ancient Peaks
Asuncion Ridge Vineyards
Bodegas Paso Robles
Broken Earth Winery
Cass Vineyard & Winery
Castoro Cellars
Costa de Oro Winery
Croma Vera Wines
CRU AND MARIPOSA
Derby Wine Estates
Domaine Degher
E&J Gallo Winery
Eberle Winery
Four Lanterns Winery
Glunz Family Winery
Grey Wolf Cellars
Halter Ranch
Hope Family Wines
J. Lohr Vineyards
Kelsey See Canyon Vineyards
Kitá Wines
Laetitia Vineyard & Winery
Le Vigne Winery
Marin's Vineyard
Michael Gill Cellars
Mitchella Vineyard & Winery
Niven Family Wine Estates
Opolo Vineyards
Peachy Canyon Winery
Penman Springs Vineyard
Riboli Family Wine Estates
Robert Hall Winery
Ruby Cellars LLC
Scheid Family Wines
Sculpterra Winery
Summerwood Winery
Tablas Creek Vineyard
Tooth & Nail Winery
Vigo Cellars
"The fact is, some of the best wines in the world are being made right here on the Central Coast," said Mid-State Fair CEO Michael Bradley. "And this is a great way to highlight, celebrate and experience these world-class wines that are being crafted by our neighbors."
For more information on Wine Night, please visit midstatefair.com. For more information about the CCWC, including a list of all winners and bios on its 19 all-star judges, please visit Central Coast Wine Competition.
About The Central Coast Wine Competition Central Coast Wine Competition promotes the excellent quality and diversity of commercial wineries and grape growers while recognizing the fastest growing wine region in California. In its 15th year, the Central Coast Wine Competition is a collaboration of six California fairs and highlights the wine industry as an integral agricultural component of the community. Gold Medal winners will be showcased at the California Mid-State Fair; Contra Costa County Fair; Cow Palace/Grand National Livestock Exposition, Horse Show and Rodeo; Monterey County Fair; San Benito County Fair; and Santa Maria Fairpark. For further information, please visit centralcoastwinecomp.com, and follow us on Facebook, Instagram and Twitter @CCWineComp.