Friday, July 14th, 2017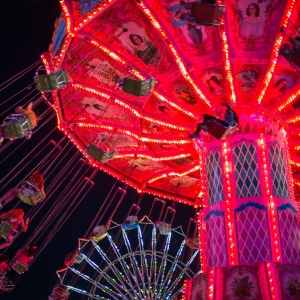 PASO ROBLES (CA) – A new twist is coming to this year's carnival at the California Mid-State Fair: the WOWXpress wristband is an upgrade to the unlimited ride band, and allows users to skip the lines for just $15 additional dollars!
Every ride has a second WOWXpress entrance, that allows guests to cut out the long lines in the evenings and on the weekends. This helps them get a much better value for their money. "One of the things that impressed us about Helm is their innovation, and their WOWXpress program is a good example of the things they do different and better than their competition" remarked CMSF CEO Michael Bradley.
"We spent several years researching the program and visiting other amusement parks and carnivals that have a fast pass system. And we designed one we thought would work for us. We determine how many wristbands we believe we will sell on any given day and we only make available 25% of that number in WOWXpress. So, if we believe via history or projections that we will sell 1000 wristbands in a day we will only make available 250 WOWXpress, thereby keeping it exclusive and ensuring short lines." Stated Corey Oakley, VP of Business Development and Strategy.
They have also instructed the ride operators on how to load the WOWXpress holders on the rides. One WOWXpress holder will be allowed on the ride for every 4 guests in the regular line. Helm and Sons see this program as an opportunity to help guests who don't mind paying a few extra dollars get on more rides during their stay.
They have developed a custom logo and branded each ride entrance so that they are clearly marked for the guests. Also, when the Carnival is extra busy they deploy line busters to help get guests their wristbands or tickets faster.
CONTACT: Helm and Sons Amusements, Corey Oakley, VP, (707) 889-6719 cell