Tuesday, June 20th, 2017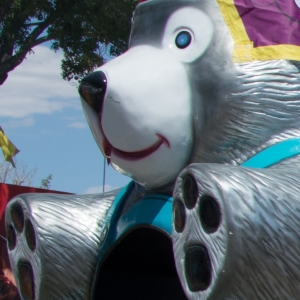 PASO ROBLES – The new carnival contractor for the California Mid-State Fair this year is Helm and Sons Amusements from Colton, California. Through an extensive bidding process where they were selected by a committee including members of the Mid-State Fair Board of Directors, Helm and Sons emerged due in part to their commitment to safety at the carnival. Known industry-wide as one of the safest carnivals on the road today, Helm and Sons takes a multi-faceted approach to their overall safety program.
"I have seen their operation first had and in full operation on a busy Saturday night, and I can assure you that I am very confident in the safety programs they have. They are alert, careful, respectful, diligent and most importantly, the equipment is impeccably maintained," commented Mid-State Fair CEO Michael Bradley.
"I can sleep much better at night because I am confident that all possible policies, procedures and practices are engrained in our team and have become routine and practiced without exception," commented Davey Helm, CEO of Helm and Sons Amusements.
"We believe that safety is not just a word, but is also at the foundation of our business and must always be a factor in every decision we make from what rides to purchase to implementing programs and policies to reduce operator fatigue," he continued.
"One of the main reasons we targeted the California Mid-State Fair was because we wanted a shorter jump from Santa Maria. In the past, we have gone to Santa Rosa right after Santa Maria, essentially driving right through Paso Robles. This year our team is so excited to not haul the extra 200+ miles," he added with enthusiasm.
From the beginning of the employment process, through training and actual work, Helm employees are constantly reminded of the importance of safety. Helm has what they call a "real" drug testing program with zero tolerance. "Other companies say they drug test but they only test certain people and not consistently. We test everyone from the CEO to the food concession employees," said Corey Oakley, VP of Business Development and Strategy.
Helm employees also must pass a background check and a series of written examinations regarding safe operation, language, customer service and emergency procedures. And they are reminded daily via two mandatory team meetings (morning and after closing each night) that you never get a second chance with an incident. Prevention is the only option.
All Helm employees are given gloves, hard hats, steel toe shoes and boots, rain gear, safety goggles and other safety equipment that they are expected to wear. In addition, Helm and Sons has a full scale companywide Injury and Illness Prevention Program that addresses heat and other weather and safety issues.
"We are proud to have the most employees who are NAARSO trained and certified of any other carnival in California. All of our managers, team leaders, technicians and several other key employees are certified," reported Helm.
A look inside the Helm safety office, a converted 50-foot semi-trailer, and one can see the extent that safety permeates the Helm operation. Proudly displayed in the "classroom" area of the office trailer is all the NAARSO certificates as well as all mandated California state required employee notices and postings. Housed in the Safety and Compliance Coordinator's office are bookshelves full of ride manuals, daily safety inspection logs and other compliance oriented documents. The coordinator is a full-time staff member of Helm and Sons and travels with the carnival to ensure compliance in all aspects from transportation to air quality and ride safety. Helm and Sons Amusements included this statement in their presentation to the Mid-State Fair: "Safety starts at hiring; is constantly reinforced; never takes a day off; is foremost when purchasing new equipment; is the responsibility of everyone; is the foundation for a successful operation and is absolute with no exceptions."
Helm and Sons Amusements is based in Colton, California, and is the industry leader in safety as well as the 2014 recipient of the Western Fairs Association Barham Award for innovation and excellence in service to the fair industry. Helm and Sons Amusements also holds the Circle of Excellence Award given by the Outdoor Amusement Business Association. This Award is presented to carnival companies that exemplify excellence and receive an outstanding score on the multi-faceted and rigorous evaluation audit.
The 2017 California Mid-State Fair runs July 19 through July 30. This year's theme is "Come One, Come All!"