Tuesday, May 30th, 2017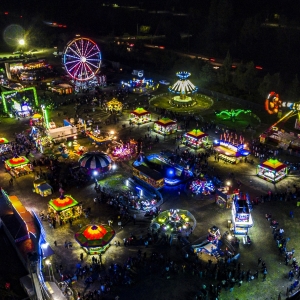 PASO ROBLES (CA) – Helm and Sons Amusements, Inc. of Colton, California has been selected as the new Carnival provider for the California Mid State Fair. Known for innovation, safety and value, Helm and Sons Amusements was selected after an extensive R.F.P. bidding process, by a committee including members of the CMSF Board of Directors. According to CMSF CEO Michael Bradley Helm and Sons, "has the experience, reputation and commitment to safety and quality that make them one of the best in the industry. We were very pleased with their proposal and all of us are very excited to work with the Helm team for many years."
Promising to bring quality and value along with their trademark of Safety, Helm and Sons CEO Davey Helm commented that "we could not be more pleased to have been selected. We feel that the CMSF is one of, if not the best Fair in California and we have pride ourselves on being the best as well. We are excited about this new partnership. Acquiring the CMSF is one of the most important achievements in the history of our company. We can't wait to get their and show the community a first-class carnival operation."
Using WOW! as their tagline, Helm and Sons Amusements proposal says that their goal is to have you say "WOW!" when you experience the midway this year. They have offered several new and unique attractions and programs to the CMSF in their massive proposal. Including new rides such as the water flume ride Big Splash, Star Dancer, Shock Wave, Zombie House, and a Minion Themed Funhouse. New kid rides include a Lego-themed Block City and a Mad Birds-themed obstacle course as well as Cub Country glass house, and a turtle race.
In addition to the rides Helm and Sons Amusements proposed to bring many "creature comfort amenities" to the Fair including two guest services stations, 100 new benches, giant umbrella shade areas, talking ticket boxes, You Are Here signage, colorful vinyl privacy screening and much more.
Value for Fair guests was also a point of emphasis in the Helm and Sons Amusements proposal. Their ride pricing structure is different than most other carnivals. Offering individual ride tickets for 50 cents each, most all Helm and Sons midway rides cost less money than other carnivals. Guests can expect to pay .50 to a $1.50 less for each ride when paying by ticket. Of course, the Pay One Price Unlimited ride wristbands will continue in 2017 at the same price of $35 each. Helm and Sons Amusements will also institute their advance sale program of what they call WOW Coupons. These coupons will be sold at the CMSF box office and other outlets for $25 each. They are a great value because they not only allow the buyer to exchange them for a wristband but also have a two for one game play, free prize and a free popcorn (a $40 value).
Helm and Sons Amusements based in Colton California is the industry leader in safety and is the 2014 recipient of the Western Fairs Association Barham Award for innovation and excellence in service to the Fair industry. Helm and Sons Amusements also holds the Circle of Excellence Award given by the Outdoor Amusement Business Association. This Award is presented to Carnival companies that exemplify excellence and receive an outstanding score on the multi-faceted and rigorous evaluation audit.
The 2017 California Mid-State Fair runs July 19 through July 30. This year's theme is "Come One, Come All!"
CONTACT: Helm and Sons Amusements, Corey Oakley, VP, (707) 889-6719 cell