Monday, November 6th, 2023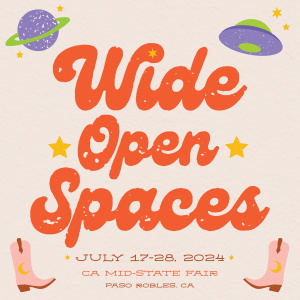 The California Mid-State Fair has chosen a new theme for 2024, featuring the tagline "Wide Open Spaces!" This theme will be featured throughout the 78th Annual California Mid-State Fair, appearing in exhibits, demonstrations, printed and digital media, as well as being used on the Fair's website. The summer will be filled with cowboy boots, UFO's, moons, stars, wagon wheels and cactus!
California Mid-State Fair CEO Colleen Bojorquez said, "This year's theme is especially unique as we look to the stars for inspiration. The mix between country and outer space will make for many interactive and educational exhibits for all age groups." She added, "We are looking forward to seeing the creative crafts and art our community enters this year. Be on the lookout for UFO's and spaceships making their way to Paso Robles this July!"
The 2024 California Mid-State Fair takes place in Paso Robles, CA and runs July 17 through July 28. Connect with us online at www.MidStateFair.com, Facebook, Instagram, and TikTok.