Monday, July 17th, 2023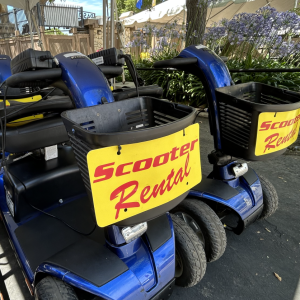 Location: Inside Main Gate
Fees (All Day): Wheelchair $50 and Mobility Scooter $75
To rent a mobility scooter, the renter on record must be 25 years or older, sign a liability waiver and leave a Photo ID with the booth during scooter rental.
Forms of Payment Accepted: Cash and major credit cards
There are no advance rentals or reservations accepted for wheelchairs or mobility scooters. Rentals are only available on a first-come basis.
Operating Hours:
| | | |
| --- | --- | --- |
| Date | Time | Special Event |
| Wednesday, July 19, 2023 | 4 pm - 10 pm | Opening Day |
| Thursday, July 20, 2023 | 1 pm - 10 pm | Cattlemens' & Farmers' Day |
| Friday, July 21, 2023 | Noon - 10 pm | Seniors Day |
| Saturday, July 22, 2023 | Noon - 10 pm | |
| Sunday, July 23, 2023 | Noon - 10 pm | |
| Monday, July 24, 2023 | 4 pm - 10 pm | |
| Tuesday, July 25, 2023 | 4 pm - 10 pm | |
| Wednesday, July 26, 2023 | 4 pm - 10 pm | |
| Thursday, July 27, 2023 | 4 pm - 10 pm | |
| Friday, July 28, 2023 | Noon - 10 pm | Kids Day |
| Saturday, July 29, 2023 | 7 am - 10 pm | Jr. Livestock Auction |
| Sunday, July 30, 2023 | Noon - 10 pm | |