Monday, June 12th, 2023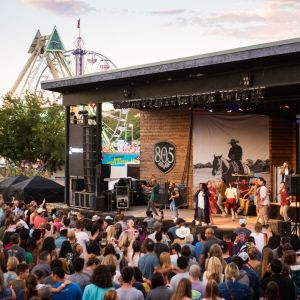 The California Mid-State Fair is pleased to announce the following performers for the 805 Beer Frontier Stage. All shows are free with your paid admission to the Fair and start at 8:00 pm. The concert series is presented by Five Cities Water Systems.
7/19/23 – Miss CMSF Scholarship Pageant (6:00 pm): Come see our lovely local ladies on stage and find out who is crowned Miss CMSF 2023.

7/20/23 - Shake, Rattle, & Roll (Elvis Impersonator): Watch Scot Bruce celebrate what made Elvis the "King of Rock and Roll!" He's joined by his rockin' 4-piece band as they bring you back in time to the electrifying musical excitement of Elvis in his prime.

7/21/23 - Legends in Concert (Direct from London): One of the longest-running and most-awarded shows in Las Vegas, Legends in Concert, will pay tribute to some of the biggest icons and luminaries in British music history, including Elton John, Freddie Mercury, Rod Stewart, and Adele, together on one stage.

7/22/23 – Ned LeDoux: The son of the legendary Chris LeDoux, Ned is carrying on the family tradition, but he's also charting his own course, and his album Buckskin is the latest step on that journey. Ned says, "Never forget where you came from and show respect to people no matter where you are."

7/23/23 – Los Morros del Norte: Pure northern flavor is styled through the veins of these four very cheerful compas, who have a unique and original style.

7/24/23 – Scotty McCreery: Scotty McCreery's current album Same Truck contains his No. 1 RIAA Gold-certified singles "You Time" and "Damn Strait," and his current single "It Matters to Her."

7/25/23 – A Flock of Seagulls: As well-known for their bizarrely teased haircuts as their hit single "I Ran (So Far Away)," A Flock of Seagulls was one of the MTV video rotation staples of the new wave era.

7/26/23 – Ben Haggard: For fans of his late, legendary father, country music great Merle Haggard, his youngest son Ben is no stranger to the stage. In fact, he's been the lead guitarist in Hag's longtime band of the same name for the past eight years, since he was 15 years old.

7/27/23 – Iam Tongi: The winner of Season 21 of American Idol, Tongi has over 1 million Spotify streams for the song "I'll Be Seeing You". Tongi is the youngest of five children and is originally from Kahuku, Hawaii, on the island of Oahu.

7/28/23 – Tyler Rich: Northern California-raised, Nashville-rooted Tyler Rich found his love of music gathered around a Christmas tree alongside family singing holiday classics and Creedence Clearwater Revival. Tyler has amassed nearly half a billion global streams to date and "The Difference" is a staple at country music stations.

7/29/23 – The Original Wailers: See Al Anderson's stunning lead work on such classics as "No Woman, No Cry," and "Three O'clock Road Block", that first alerted rock fans to the Wailer's music. Andersons' musical achievements with Bob Marley & The Wailers include the platinum award winning albums, 'Live at the Lyceum,' 'Babylon by Bus' and ten times platinum album 'Legend.'

7/30/23 – Shane Profitt: A salt of the earth Southerner with a straight-shooting swagger and kind smile, Shane Profitt's musical toolbox is full of all-natural talent. His first country music hit "How It Oughta Be" is currently a Top 15 smash.
The 2023 California Mid-State Fair runs July 19 through July 30 and this year's theme is "Shake, Rattle & Roll!" Connect with us on Facebook, Instagram, Twitter and TikTok.