Thursday, May 25th, 2023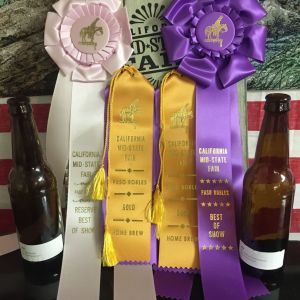 The California Mid-State Fair is pleased to announce the winners of the 2023 Home Brew Competition sponsored by Doc's Cellar. Central coast brewers alike were represented well with entries of all styles.
"It was great to see not only a strong turnout for the competition, but also to have such a diverse field of beer styles represented. We've got some very talented homebrewers in our area and the fact that one of the toughest styles to master won Best in Show says a lot about that," says Chief Judge Jason Affourtit. "I'm already looking forward to next year's competition!"
The Fair would like to thank first year Chief Judge, Jason Affourtit, and all the judges for their time and expertise in making the competition go off without a hitch. Many thanks to Doc's Cellar for their continued support and help with the competition.
BEST OF AWARDS:
Best of Show:
Mark Paulick, San Luis Obispo, Munich Helles
Reserve Best of Show:
Hank Wethington, Paso Robles, American Stout
For the complete list of results please visit www.MidStateFair.com or click here.
The 2023 California Mid-State Fair runs July 19 through July 30 and this year's theme is "Shake, Rattle & Roll!" Connect with us on Facebook, Instagram, Twitter and TikTok.