Tuesday, May 9th, 2023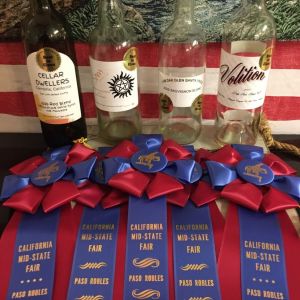 The California Mid-State Fair is pleased to announce the winners of the 2023 Home Wine Competition. Central Coast home winemakers alike were represented by a solid number of total entries and gold medals awarded.
"This year's judging was another great success," says chief judge Mike Jones, "It's very clear to the judges and I that the quality, capabilities, and overall craftsmanship of this year's wines have improved by leaps and bounds. I wouldn't be surprised at all to see some of our home winemakers turn professional at some point. Already looking forward to next year's wines."
The Fair would like to thank all the volunteers and judges for their time in making the competition so smooth and successful. Thank you to Baker Wine & Grape Analysis, ETS Laboratories, Michael Rose Cellars, The Vintner's Vault, and new this year, Jacobs Consulting for their support.
BEST OF AWARDS:
· Best of Show and Best White: Jerry Shoemaker (Santa Ynez) Sauvignon Blanc
· Best of Dessert: Ruth Stewart (Paso Robles) Honey Wine
· Best of Red: Jim McPherson (Cambria) Red Blend
· Best of Rosé: Brad Bunkelman (Santa Maria) Deep Rosé Blend
For the complete list of results please visit www.MidStateFair.com.
The 2023 California Mid-State Fair runs July 19 through July 30 and this year's theme is "Shake, Rattle & Roll!" Connect with us on Facebook, Instagram, Twitter and TikTok.