Tuesday, May 2nd, 2023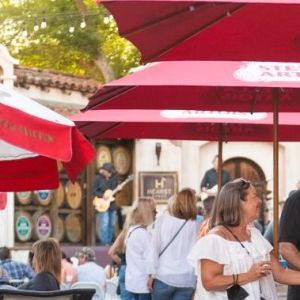 The California Mid-State Fair is pleased to announce the following performers for the Mission Square Stage. All shows are free with your paid admission to the Fair and start at 7:00 pm every night.
7/19/23 – Route 66 - "Route 66" is the premier classic rock band on the central coast! We're a band of experienced, talented musicians offering a variety of songs from the British invasion, to American classics! Enjoy song covers from Creedence, The Stones, Beatles, John Couger Mellencamp, Elvis, Motown and more!
7/20/23 – The Molly Ringwald Project – Hailing from the Central and South Coasts of California, they're a top drawing 80's tribute band, to put it simply. Paying homage to all the songs stuck in their heads from the days of yore, tMRP brings an unparalleled energy to every show and venue.
7/21/23 – The Incrementals – Performing a unique blend of rock, folk, and Americana music filtered through the distinctive lens of living in Templeton. They combine original music with cover songs carefully selected for both broad appeal and for a sound that is consistently innovative and soulful.
7/22/23 – Acoustic DNA – Hailing from Ventura California, they cover country, rock, pop, and everything in between. They thrive on audience requests and crowd sing alongs.
7/23/23 – Lunar Radio – A 4-piece Central California Coast Premier Band performing Rock, Funk, Blues and Country from classic songs of the 60's up to current hits.
7/24/23 – ghost\monster – For over a decade ghost\monster has been mining the top hits from sock-hop to hip-hop, from Johnny Cash to the Clash, and from Elle King to the King of Pop. They seamlessly take their sound from the tasting room to the tap room and beyond with their diverse catalogue. Feel-good evergreen rock and roll at its best.
7/25/23 – Marisa Deering – A singer/songwriter born and raised in Mission Viejo, California. Growing up on country music, her songwriting is inspired by great storytellers. Her songs are fueled by personal introspection and attempting to explain the world around her as she sees it.

7/26/23 – The Transducers – Hailing from Monterey and known for their high-energy shows, packed with a colorful assortment of rock music including originals and fresh arrangements of songs spanning across multiple decades and styles. They pull from their roots in classical, musical theater, blues, funk and soul with full harmonies and powerhouse vocals to make every show an unforgettable experience.
7/27/23 – RUMOR – A 6-piece local cover band from the Central Coast delivering classic to contemporary soft rock, blues, R&B, and pop dance hits. The versatile group includes double guitar leads, keyboards, synthesizer, sax, and a powerful female vocalist, Dani Nicole.
7/28/23 – Way Out West – Way Out West is country, rock, and some hippie music thrown in for fun. With their tight harmonies and hot licks, Way Out West has become the dance band to follow on the Central Coast.
7/29/23 – Stellar Band – A multi-talented group of musicians playing classic hits that span the decades. Their music is influenced by a diverse range of artists, from Fleetwood Mac to Led Zeppelin.
7/30/23 – Blythe Berg & thebodyparts – A 5-piece band formed of Paso Robles locals and influenced by female icons such as Amy Winehouse, Fiona Apple and Carole King. New Times Award Winning singer-songwriter, Blythe Berg, leads the band on vocals and keys. Come enjoy the band's pitch perfect, sassy originals and danceable covers.
The 2023 California Mid-State Fair runs July 19 through July 30 and this year's theme is "Shake, Rattle & Roll!" Connect with us on Facebook, Instagram, Twitter and TikTok.