Monday, April 10th, 2023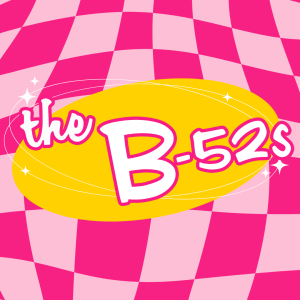 The California Mid-State Fair is pleased to announce that The B-52's have been confirmed to perform in concert on Saturday, July 22 at 7:30pm. Opening the show will be special guest Lou Gramm, the original lead vocalist of Foreigner. The concert will take place in the Chumash Grandstand Arena at the Paso Robles Event Center and is part of the Michelob Ultra Concert Series presented by Visit SLO CAL. This will be The B-52's second appearance at the California Mid-State Fair, having last played the Main Grandstand in 1998.
Ticket prices for the show are $40, $60, $80, $90, and $130 (Pit, standing only) and will go on sale Friday, April 14, 2023, starting at 10:00 am. Tickets can be purchased on the California Mid-State Fair's Official website www.MidStateFair.com. The Box Office cannot guarantee the authenticity or validity of any tickets purchased outside of our official channels.
It is well known that The B-52s are The World's Greatest Party Band. Nearly 40 years and over 20 million albums into their career, there can be no doubt as to why they remain one of rock music's most beloved and enduring bands. Any mystery concerning the band's longevity and ongoing appeal is immediately solved when exposed to a B-52s concert experience. From groundbreaking songs like "Rock Lobster," "Dance This Mess Around," "Private Idaho," "Roam" and "Deadbeat Club," to chart-topping hits like "Love Shack," to their thrilling reemergence on the pop scene with their 2008 CD Funplex, which bowed at #11 on the Top 200. The B-52s' unforgettable dance-rock tunes start a party every time their music begins.
Formed on an October night in 1976 following drinks at an Athens, GA, Chinese restaurant, the band played their first gig at a friend's house on Valentine's Day 1977. Naming themselves after Southern slang for exaggerated 'bouffant' hairdos, the newly christened B52s (Fred Schneider, Kate Pierson, Keith Strickland, Cindy Wilson, and Ricky Wilson) began weekend road trips to New York City for gigs at CBGB's and a handful of other venues. Before long, their thrift store aesthetic and genre-defying songs were the talk of the post-punk underground. A record deal soon followed and their self-titled debut disc, produced by Chris Blackwell, sold more than 500,000 copies on the strength of their first singles, the garage rock party classic "Rock Lobster," and "52 Girls." The album placed at #152 on Rolling Stone's "500 Greatest Albums of All Time" and #99 on VH1's "Greatest Albums of All Time."
Gramm was the lead vocalist on all of Foreigner's hit songs, including "Feels Like the First Time", "Cold as Ice", "Long, Long Way from Home", "Hot Blooded", "Double Vision", "Blue Morning, Blue Day", "Head Games", "Dirty White Boy", "Urgent", "Juke Box Hero", "Break It Up" and "Say You Will". He co-wrote most of the songs for the band, which achieved two of its biggest hits with the ballads "Waiting for a Girl Like You", which spent ten weeks at #2 on the 1981-82 American Hot 100, and "I Want to Know What Love Is", which was a #1 hit internationally (US & UK) in 1985. Their first 8 singles cracked the Billboard Top 20 (4 went Top 10) making them the first group since the Beatles to achieve this in 1980.
The 2023 California Mid-State Fair runs July 19 through July 30 and this year's theme is "Shake, Rattle & Roll!" Connect with us on Facebook, Instagram, Twitter and TikTok.