Tuesday, March 28th, 2017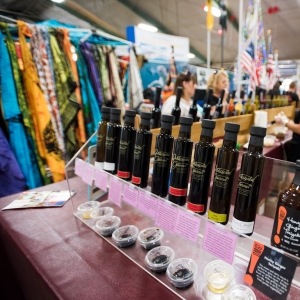 PASO ROBLES (CA) – Calling all California olive oil producers. The deadline to enter the 9th annual Central Coast Olive Oil Competition is approaching on April 6, 2017. The Central Coast Olive Oil Competition, hosted annually by the California Mid-State Fair in partnership with the Lodi Grape Festival, will feature over 100 olive oils produced in California.
The Central Coast Olive Oil Competition provides a venue for California olive oils to be professionally judged and to educate consumers on the wide array of olive oil styles produced in California. The cost is $60 per entry. Judging takes place Wednesday, April 19. To qualify for entry in the 2017 Central Coast Olive Oil Competition, 100% of the olives used to produce the olive oil must have been harvested within the state of California.
Olive oils are divided into extra virgin, flavored extra virgin, organic extra virgin, and flavored organic extra virgin olive oil and are separated into classes by varietal. The panel of competition judges evaluates each entry according to aroma, taste, and intensity ranging from delicate to robust
Olive oil entries will be awarded Gold, Silver and Bronze medals in their respective classes as well as "Best of Class" and "Best of Show". Organic and conventional method will be judged separately, as well as, flavored oils. Entries that earn medals will be showcased at the 2017 California Mid-State Fair as well as the 2017 Lodi Grape Festival.
The 2017 confirmed judges:
Paul Vossen – Chief Judge – Santa Rosa, CA
Franco Dunn – Healdsburg, CA
Fran Gage – San Francisco, CA
Louie Gonzales – Oakland, CA
John Hadley – Forestville, CA
Arden Kremer – Sonoma, CA
Julie Menge – Sacramento, CA
Olga Orlova – Brooks, CA
Sandy Sonnenfelt – Berkley, CA
Registering for the competition is available at http://cmsfw.fairmanager.com/ until Thursday, April 6. For more information, please visit http://centralcoastwinecomp.com/olive-oil/. For more information, contact Mike Dawson at 805-591-4884 or mike@solterrastrategies.com.
The 2017 California Mid-State Fair runs July 19 through July 30. This year's theme is "Come One, Come All…"