Friday, June 7th, 2019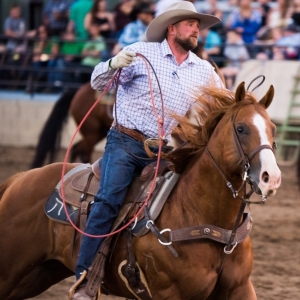 PASO ROBLES, CA) – The California Mid-State Fair has dramatically increased the cash awards that will be given out to winners of the 2019 Wrangler Country Rodeo Finals presented by Hearst. The Wrangler Country Rodeo presented by Hearst begins the second week of the 2019 California Mid-State Fair, with the Finals taking place on Saturday, July 27 at 7:00 pm in the Chumash Grandstand Arena.
Tickets for the Wrangler Country Rodeo Finals presented by Hearst go on-sale Friday, June 14 at $20/Adult (13+ years old) and $10/Child (3-12 years old). The price will increase to $25/ticket on the day of the event. Tickets can be purchased online at www.midstatefair.com or by calling 1-800-909-FAIR.

New this year, each of the fourteen 1st place winners of the finals on Saturday night will receive $1,000 cash, in addition to a champion belt buckle. Championship Saturday night will feature Team Penning champions, Barrel Race champions, Ranch Rope & Brand champions, Mixed Ribbon Roping champions, Match Roping champions, and Double Mugging champions. Also, new for this year is the feature of an All-Around Finals Champion who will receive and additional $1,000 and buckle. Also, first-go qualifiers can earn gift cards from Boot Barn and Wrangler.
The increase in purse money has been made possible by sponsorships from Wrangler, Hearst Ranch and American Riviera Bank.
The Wrangler Country Rodeo Finals presented by Hearst is the culmination of hard work and stellar performances by our area's best and brightest cowboys and cowgirls. In addition, rodeo fans will be treated with specialty acts throughout the performance, including the very exciting Dancing with Bulls competition produced by the Flying U Rodeo Company. Also featured will be Blind Man's Bull Poker, Mutton Busting and rodeo clown Matt Merritt – the exclusive Entertainer of the PBR Velocity Tour.
The 2019 California Mid-State Fair runs July 17-28 and this year's theme is "Let's Have S'More Fun!" Connect with us on Facebook, Instagram, Twitter, Snapchat and YouTube.