Monday, May 6th, 2019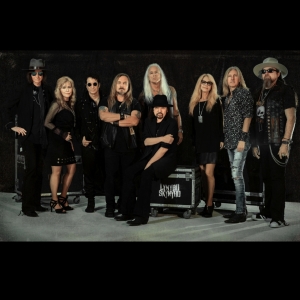 (PASO ROBLES, CA) – The California Mid-State Fair is pleased to announce that rock icons Lynyrd Skynyrd has been confirmed to perform in concert on Tuesday, July 23 at 7:30 pm. The concert will take place in the Chumash Grandstand Arena at the Paso Robles Event Center with country star Chris Janson opening the show.
Ticket prices for the show are $41, $56, $81, and $101 and will go on sale Friday, May 10, 2019. Tickets will be available starting at 10:00 am online at www.MidStateFair.com or by calling 1-800-909-FAIR (3247), and at 1:00 pm at the California Mid-State Fair box office located at 2198 Riverside Avenue in Paso Robles.
Lynyrd Skynyrd is best known for the RIAA Platinum-certified "Sweet Home Alabama" and self-proclaimed signature song, "Free Bird," that Rolling Stone said was "easily the most requested live song in existence." With everlasting hits such as "Simple Man," "Gimme Three Steps," "What's Your Name," "Call Me The Breeze," "You Got that Right," and more, it is easy to see why Rolling Stone named Lynyrd Skynyrd one of its 100 Greatest Bands of All Time.
Original members Ronnie Van Zant, Bob Burns, Allen Collins, Gary Rossington, and Larry Junstrom formed the band in 1964 (originally known as My Backyard) with the band changing to its famous name in the early 1970s. They signed with Sounds of the South Records in 1972, and released their self-titled disc the following year. The band's story took a tragic turn in October 1977 when a plane crash took the lives of Van Zant, Steve Gaines, backup singer Cassie Gaines, and several of their road crew. The band took a decade-long hiatus before reuniting for a tour and live album, Southern by the Grace of God. The band's current line-up includes original member Rossington, Johnny Van Zant, Rickey Medlocke, Mark "Sparky" Matejka, Michael Cartellone, Keith Christopher, Peter Keys, Dale Krantz Rossington and Carol Chase. The band was inducted into the Rock and Roll Hall of Fame in 2006.
Chris Janson is a platinum-selling, high-octane entertainer, multi-instrumentalist, award-winning singer/songwriter, and the youngest living member of the Grand Ole Opry. Janson's new song, "Good Vibes," is the debut single from his forthcoming third studio album. His sophomore album, Everybody, produced his second No. 1 hit single, "Fix A Drink," the chart-topping follow-up to his No. 1 debut smash "Buy Me A Boat." His CMA-nominated song, "Drunk Girl," won Music Row "Song of the Year" and has been called "the most important song to come out of Nashville in years." Janson is the only artist in 2018 who opened the CMA Awards and closed out the ACM Awards, with what Rolling Stone called a "must-see performance." Janson continues to sell-out shows on his headlining "Waitin' on 5 Tour," and has been announced as direct support for Chris Young's "Raised on Country Tour."
The 2019 California Mid-State Fair runs July 17-28 and this year's theme is "Let's Have S'More Fun!" Connect with us on Facebook, Instagram, Twitter, Snapchat and YouTube.