Monday, October 10th, 2016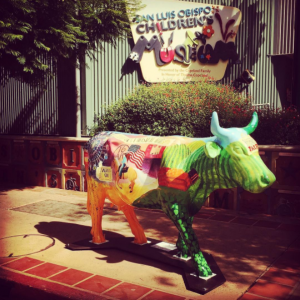 PASO ROBLES (CA) – The California Mid-State Fair is pleased to announce that "Blue Clover" has been installed and is ready for viewing in downtown San Luis Obispo! "Blue Clover" is part of CowParade SLO County and is located just in front of the San Luis Obispo Children's Museum at 1010 Nipomo Street, San Luis Obispo.
Over 200 years ago the first agriculture fair debuted in the United States. Slated to showcase the best livestock that each farmer produced, a blue ribbon represented more than a winner, but an increased value for breeding stock. Over time, youth organizations evolved (4-H and FFA), instilling the same competitive nature and quest for excellence.
The California Mid-State Fair's foundation can be found in our youth programs. Countless San Luis Obispo citizens can remember the time they too participated in 4-H and FFA and how important the experienced shaped their lives. Our mission, as well as, the California Mid-State Fair Heritage Foundation's mission, is founded on the basis of youth and agriculture.
"Blue Clover" not only represents the coveted blue ribbon, but embodies the symbols of the FFA (National Blue and Corn Gold) and 4-H (Green Clover).
"Blue Clover" was painted by Carla Cary, a third year student at Cal Poly majoring in Business Administration with a concentration in Marketing. Cary also works as a wedding planner and is heavily involved as a member of the Alpha Gamma Delta sorority at Cal Poly. When she was younger, Cary participated as a 4-H exhibitor at the California Mid-State Fair.
Showcasing 101 life-size, 120-pound, fiberglass works of art, CowParade SLO County is the county's largest public art display with proceeds benefiting local charities. The exhibit runs through April, 2017.
The 2017 California Mid-State Fair runs July 19-31.