Friday, July 14th, 2017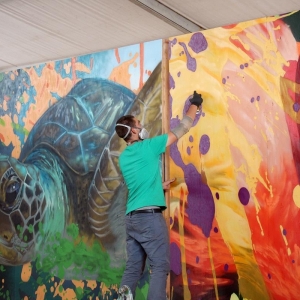 PASO ROBLES (CA) – The 2017 California Mid-State Fair is excited to welcome international spray paint artist Ryan "ARCY" Christenson for the full run of this year's Fair July 19-30, 2017.
For each of the 12 days of the 2017 Fair, ARCY will create a colorful photorealistic mural live at the Fair in the Carnival Area. Each mural will be an iconic Fair image painted on a giant 8-foot by 12-foot canvas. Viewing is free with Fair admission.
ARCY is known for his unique style of large scale mural art and has been perfecting his craft since 2003. ARCY has performed for The Smithsonian Institute, America's National Park Service and the Walt Disney Hometown Museum. For more details on ARCY's work, visit www.arcyofficial.com.