Monday, June 12th, 2017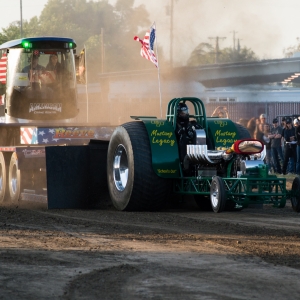 PASO ROBLES (CA) – The California Mid-State Fair is pleased to announce that a spectacular Tractor & Truck Pull will take place at the 2017 Mid-State Fair on Sunday, July 30. The exciting night of professional tractor and truck pulling is being produced by MLM Motorsports and will take place in the Main Grandstand Arena starting at 7:30 pm and feature the brand-new Cal Poly Legacy tractor!
Tickets for the Tractor & Truck Pull go on-sale Tuesday, June 13 at $20/Adult (13+ years old) and $10/Child (3-12 years old). The price will increase to $25/Adult and $15/Child starting July 19, 2017. Tickets can be purchased online at www.midstatefair.com or by calling 1-800-909-FAIR.
This is your chance to witness everything from street driven trucks to modified trucks and tractors all the way to 40-engine, 6,000-horsepower unlimited modified tractors. The big boys will take their turn dragging the 40,000-pound sled down the 300-foot track. You do not want to miss this ground-pounding, power-packed night of excitement for the whole family!
The 2017 California Mid-State Fair runs July 19 through July 30. This year's theme is "Come One, Come All!"