Thursday, August 3rd, 2023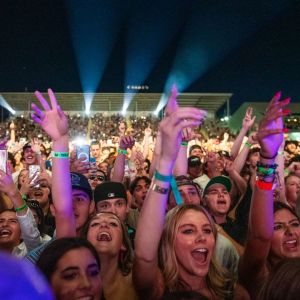 The 77th annual California Mid-State Fair returned for 12 full days of fun July 19-30 with a theme of "Shake, Rattle & Roll!" In addition to the usual attractions of 4-H and FFA Exhibitors, Carnival Rides & Games, Exhibits, Food, Shopping and Live Music… the Fair was also highlighted by the return of the popular dance area, La Cantina, and Barnyard Races!
CEO Colleen Bojorquez said, "On behalf of the Staff and the Board of Directors, we are delighted with the results of the 2023 California Mid-State Fair. The support from the community to celebrate the traditions of San Luis Obispo County and to see the staff's hard work is truly inspiring. We couldn't do it without you."

LIVESTOCK AUCTIONS
Revenue from the 2023 livestock auctions raised 2,689,519 on 770 animals (unofficial). Of that, $672,000 came from the Replacement Heifer Sale and $2,017,519 came from the Junior Livestock Auction, an increase over last year. Add-ons close August 6, so auction totals will increase after August 7. The new Small Animal Auction brought in $7,737.

MICHELOB ULTRA CONCERT SERIES
Concerts in the Chumash Main Grandstand saw just over 91,000 guests attending performances, an increase of a couple thousand ticket buyers over last year's total. This year, the biggest attractions were a sold-out Luke Bryan concert, Pitbull, Tim McGraw, Nelly, and Los Tucanes de Tijuana.
INDUSTRIAL ARTS AUCTION
This year's auction brought in a stunning $225,550 – on 61 projects – an increase of $34,000 over last year, the most ever raised in a single-year! Thanks to the generous support from the community, over $1.1 million has been brought in since the auction began over 23 years ago.
OVERALL ATTENDANCE
Total overall attendance topped 334,000 (unofficial) which was a 0.5% increase over last year's Fair. While official ticket counts will take several weeks to calculate, the Fair wishes to sincerely thank all those who participated in, and/or attended the 2023 Fair!
CARNIVAL
Helm and Sons Amusements, Inc. of Colton, California generated $1,670,000 in total revenue, a 4% increase from 2022… and that included a completely FREE day of rides, on Opening Day!

EXHIBITS
There were 7,673 entries between both adult and youth which was up once again from last year's 6,206. Also, the number of exhibitors between adult and youth grew this year (1,018) from last year (958).

CONCESSIONS
Slightly over 50 food and beverage (non-alcoholic) vendors reported gross revenues of just over $3 million dollars.


SPONSORSHIPS
The Fair once again received generous support from businesses and individuals in the form of corporate sponsorships. Over 95 total sponsors gave over $1.3 million dollars in cash and in kind donations.

CENTRAL COAST WINE COMPETITION
The Central Coast Wine Competition named Peachy Canyon Winery as the 2023 Winery of the Year. The Paso Robles winery had 17 entries placed this year with one best of class award, one double gold, nine golds, six silvers and one bronze. This is the first Winery of the Year honor for them. Other winners:
● Best of Show/Best of White – Lucas & Lewellen, Buellton, CA, 2022 Viognier
● Best Dessert – Glunz Family Winery & Cellars, Paso Robles, CA, Mission Angelica
● Best Red – Pear Valley, Paso Robles, CA, 2019 Merlot
● Best Rosé – Villa San-Juliette, San Miguel, CA, 2022 Rosé Reserve
● Best Sparkling – Broken Earth, Paso Robles, CA, 2018 Sotto Voce
CALIFORNIA CRAFT SPIRITS COMPETITION
Two divisions, one for spirits made in California and the second for spirits made outside of California. Each has 64 classes available.
● Best of Show/Best of Class Whiskey – KROBAR, San Luis Obispo, CA, Single Malt Whiskey
● Best of Class Liqueurs – Bethel Rd. Distillery, Templeton, CA, Nut Liqueur
● Best of Class Gin – KROBAR, San Luis Obispo, CA, Contemporary Gin
● Best of Class Vermouth – Rockwell Vermouth Company, Santa Rosa, CA, Vermouth
● Best of Class Moonshine - The Mob Museum, Las Vegas, NV, Moonshine
SAN LUIS OBISPO COUNTY WINE INDUSTRY AWARDS
• Wine Industry Person of the Year Mike Sinor, founder/co-founder, Sinor-LaVallee Wine Co. & Ancient Peaks Winery
• Wine Grape Grower of the Year Erin Amaral, vineyard manager, Pacific Coast Farming
• Winemaker of the Year Matt Trevisan, owner and winemaker, Linne Calodo
• Lifetime Achievement Award: Linda Cooks, Wine and Liquor Manager, Albertsons Paso Robles

AGRICULTURE AWARDS
● George Donati, Agriculturalist of the Year;
● Suze Evenson, CattleWoman of the Year; and
● Mike Massey, Cattleman of the Year


COUNTRY RODEO FINALS WINNERS
The Country Rodeo Finals All-Around Cowboy was Cody Mora. Other winners:
● TEAM PENNING
○ Quinn Tannehill, Misty Tartaglia, Janalee Johnsen
● BARRELS
○ Kathryn Varian
● RANCH ROPE & BRAND
○ Franky Martinez, Danny Leslie, Colter Negranti, Francisco Cruz
● MIXED RIBBON ROPING
○ Colter Negranti, Brittany Kelly
● MATCH ROPING
○ Dugan Kelly, Danny Leslie
● DOUBLE MUGGING
○ Tristan Schmidt, Edgar Machado
● LADIES BREAKAWAY ROPING
○ Becca Mora
MISS CALIFORNIA MID-STATE FAIR
The California Mid-State Fair announced that 20-year-old Kerrigan Jensen, of Santa Margarita, had been crowned the 2023 Miss California Mid-State Fair Queen. 18-year-old Jenna Wilshusen of Paso Robles was the 1st Runner Up and 17-year-old Natalie Boyd of Paso Robles was 2nd Runner Up.
PANCAKE BREAKFAST
The Annual Free Pancake Breakfast, hosted by the California Mid-State Fair and the Paso Robles Main Street Association, served 1,500 people breakfast, up from 750 last year! Community members loved the train and horse rides around the park after eating a delicious meal in the park. Thank you to the downtown local businesses who handed out breakfast tickets, the vendors, and volunteers!
The 2024 California Mid-State Fair runs July 17-28, 2024.