Wednesday, June 19th, 2019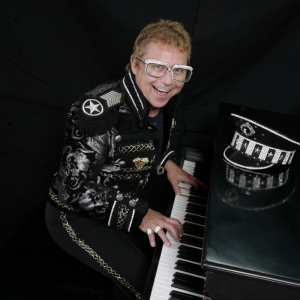 (PASO ROBLES, CA) – The California Mid-State Fair is pleased to announce that Elton The Early Years will be performing at the 2019 Fair on Friday, July 26, with performances at 6:30 pm and 8:30 pm. Elton The Early Years' concerts will take place on the Frontier Stage and will be included with paid Fair admission.
Elton The Early Years are known for performing a technically accurate Vegas style production, featuring the wildly popular music, costumes and antics of the legendary Elton John! From competing on The Worlds Greatest Tribute Bands to singing for the 'Just Dance' video game, the band has done it all!
The entire cast of Kenny Metcalf as Elton & The Early Years Band skillfully re-capture the original album sounds in live concert settings, delivering a complete audio/visual experience that is guaranteed to amaze any audience, with fans reporting the sense of "Déjà vu" during the lively performance.
The 2019 California Mid-State Fair runs July 17-28 and this year's theme is "Let's Have S'More Fun!" Connect with us on Facebook, Instagram, Twitter, Snapchat and YouTube.