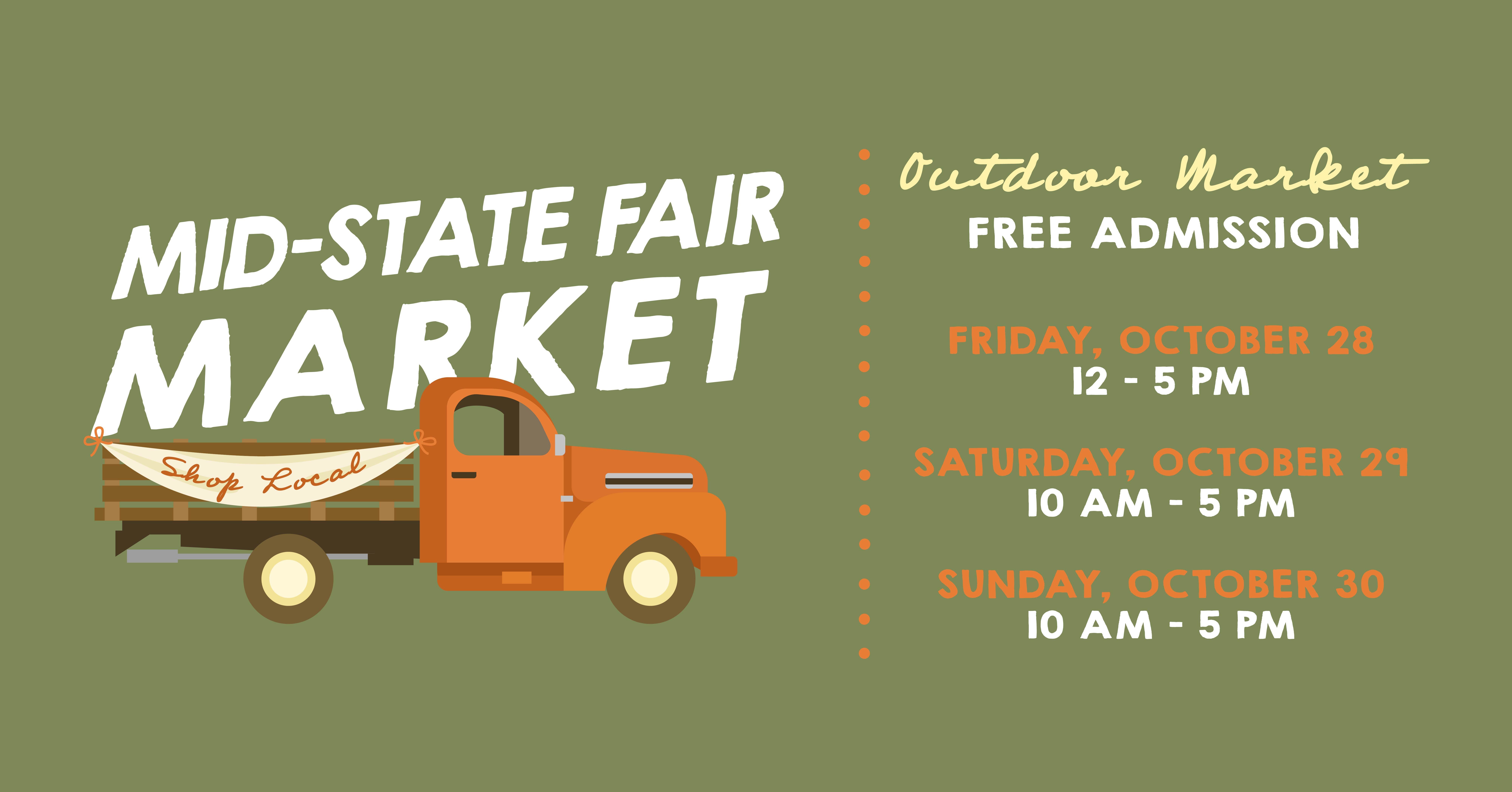 The Mid-State Fair Market at the Paso Robles Event Center features local crafters and artisans from throughout San Luis Obispo County selling handmade and unique items. Find jewelry, apparel, fashion accessories, home décor, health and beauty products, art, antiques, handmade eats, used items and more.
Free Admission + Free Parking!

Location and Parking:
Paso Robles Event Center Frontier Park and surrounding areas, 2198 Riverside Avenue, Paso Robles, CA. Parking is in Lot C off Gregory Avenue and the Fair's parking lots off Riverside Avenue.


Fall Market
Friday, October 28 from Noon - 5:00 pm
Saturday, October 29 from 10:00 am - 5:00 pm
Sunday, October 30 from 10:00 am - 5:00 pm

Shopping Vendors:
Click here to see the Full List
Food Vendors:
The West Coast Churros – Kettle corn and churros
Pony Espresso: Coffee and espresso drinks, tea, and smoothies
I Love to Cater – Handmade Pizza Napoletana
Central Coast Kitchen - Gourmet burgers, fresh lemonade, strawberry lemonade, plus french fries, nachos, etc.
Entertainment - FREE to Enjoy!
Friday, October 28, 2:30 - 4:30 pm: Connect the Coast (live music)
Saturday, October 29, 11:00 am – Noon: Main Street Dance
Activities For Kids - FREE to Enjoy!
Halloween Costume Contest
Halloween Arts and Crafts with the CMSF Queen + Princesses!
Trick-or-Treating


---
Winter Market
Click here to see the Full Vendor List - Coming soon
Friday, December 9 from Noon - 4:00 pm
Saturday, December 10 from 10:00 am - 4:00 pm
Sunday, December 11 from 10:00 am - 4:00 pm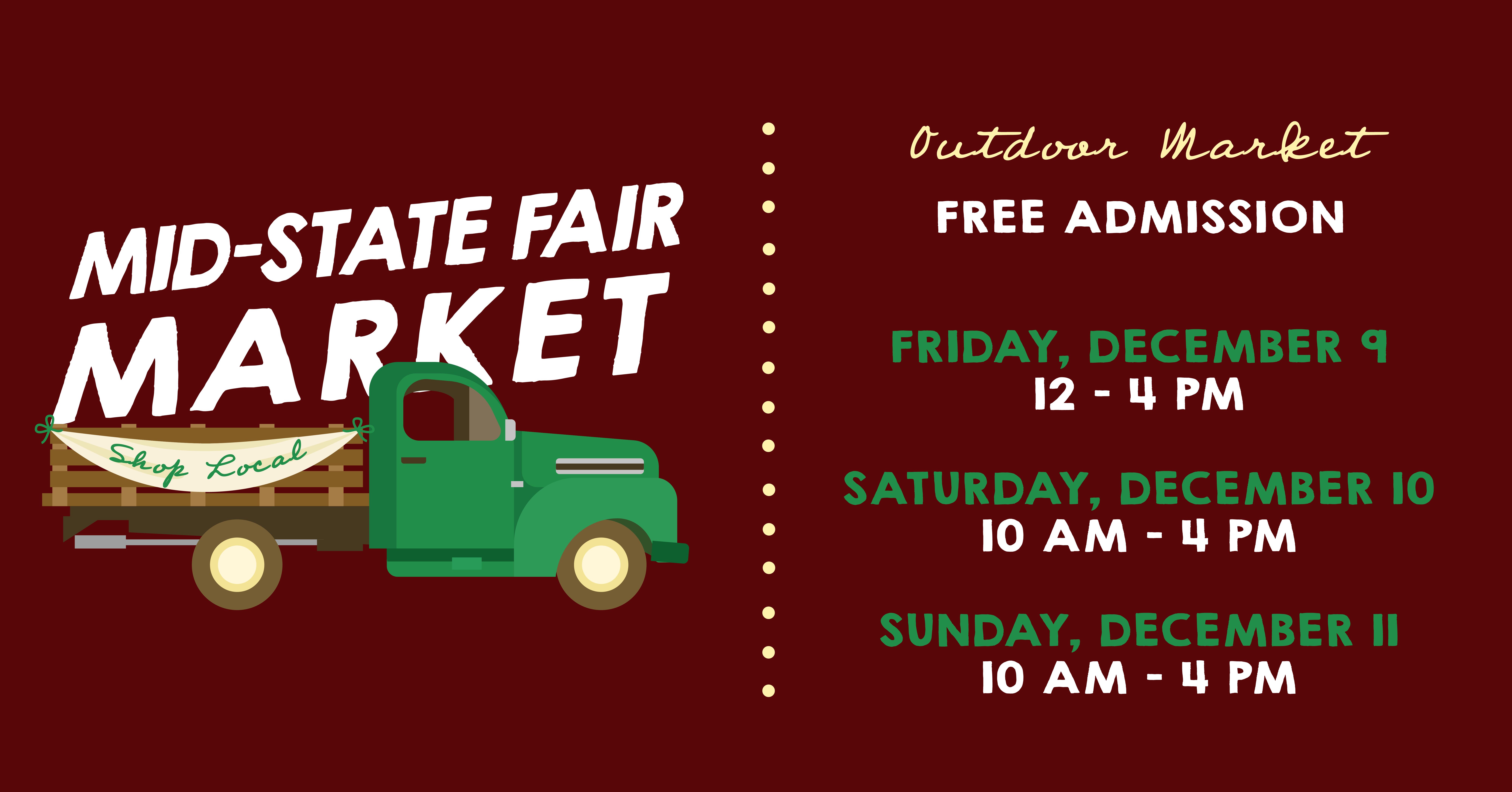 ---
● Space Sizes: 10'x10' and 10'x20'
● Rental Fee* per Market: $70 - 10'x10' Space and $90 – 10'x20' Space *Includes all three days of event with overnight watchman service. No discounted rate for participation in less days. *Not included: Tents, tables or chairs. Electricity is available for select spaces for an additional fee.
● Additional Optional Fees: $10 per 8-foot table rental per Market, $2 per folding chair rental per Market, $20 access to electricity per Market (available at specific spaces only), $25/$35 general liability insurance through CFSA per Market, $50 overnight camping per night (limited)
● Requirements: State of California Seller's Permit (for all tangible goods, direct services are excluded), San Luis Obispo County Health Permit (for all consumable items), General Liability Insurance and PREC Rental Agreement (provided once approved). All current County health and safety regulations must be adhered to.
● Event space opens to vendors at 10:00 am on Friday and 8:00 am on Saturday and Sunday and closes one hour after the end of public hours each day. Teardown must be completed no later than one hour after the end of the Market on Sunday.
● Vendor is responsible for any and all sales tax reporting.