Tuesday, June 13th, 2017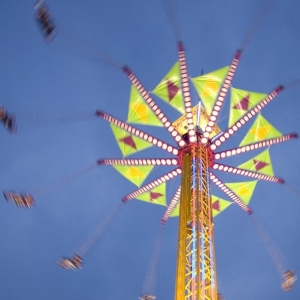 PASO ROBLES (CA) – Value in ride, game and food concessions pricing was a major factor in deciding on a new Carnival provider for the 2017 California Mid State Fair. Helm and Sons Amusements of Colton California was awarded the contract to provide amusement rides, carnival games and food for the next five years after a very comprehensive bidding process. "Helm and Sons Amusements is very committed to providing not only great guest service but they are very conscious of pricing and value. They have committed to maintaining the same daily unlimited ride wristband pricing for this year as in the past." Commented Michael Bradley, CMSF CEO.
In 2017, individual ride tickets will be 50% less to purchase than past years. Guests wishing to purchase ride tickets instead of wristbands, will find that the tickets are priced at .50 cents each and rides costs less per ride than other Carnivals. The number of tickets per ride varies from 4 to 12.
"The maximum price per ride regardless of the ride, even the largest most extreme rides like the Big Splash, on our Show is $6.00. Compare this to other Carnivals where the ticket price is $1 each and the number per ride is up to 7 or 8 resulting in a cost of $8.00 or 25% more than we charge! We think this is a great value." Said Davey Helm, CEO of Helm and Sons Amusements.
Even the Carnival games offer an excellent value. Many games have an option for a $2 or $3 game, many games are Winner-Every-Time, which means that just for playing you take home a prize. And according to Helm even the harder to win games of skill provide a prize once a guest has spent $20 at that game.
You will see fewer games at this year's fair reported Helm. "We like to keep the game duplications to a minimum and we feel that with good variety less is more when it comes to games. While we have something for every guest taste from sports to traditional games, we don't believe in just filling space with games, we want a good balance of rides, games and food."
Helm and Sons Amusements based in Colton California is the industry leader in safety and is the 2014 recipient of the Western Fairs Association Barham Award for innovation and excellence in service to the Fair industry. Helm and Sons Amusements also holds the Circle of Excellence Award given by the Outdoor Amusement Business Association. This Award is presented to Carnival companies that exemplify excellence and receive an outstanding score on the multi-faceted and rigorous evaluation audit.
The 2017 California Mid-State Fair runs July 19 through July 30. This year's theme is "Come One, Come All!"
CONTACT: Helm and Sons Amusements, Corey Oakley, VP, (707) 889-6719 cell