Monday, June 12th, 2017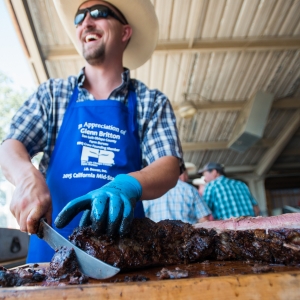 PASO ROBLES (CA) – The California Mid-State Fair would like to invite you to celebrate our Cattlemen, Cattlewomen, and Farmers from throughout the state on Thursday, July 20 at the 31st Annual Cattlemen and Farmers Day.
The day starts at 8:15 am with the Cow Dog Trials, then at 1:00 pm don't miss the Ranch Horse Class, with both events being held in the Hearst Equestrian Center. At 11:30 am we will have the best BBQ of the year in the Livestock Pavilion, which will feature the JB Dewar Tractor Restoration winners and the introduction of the scholarship winners of the SLO County Foundation for Ag Awareness & Heritage Foundation. The annual Industrial Arts Program and Auction, sponsored by Airgas, will take place at 1:30 pm in the Paso Robles Pavilion.
The day continues with a social hour serving fabulous ice-cold beer as well as wines from several of our award-winning SLO County wineries starting at 4:00 pm, BBQ Steak Dinner at 5:00 pm, and the announcement of the 2017 Cattleman of the Year, CattleWoman of the Year, and Agriculturalist of the Year at 6:30 pm. Cap the evening off by heading over to the Main Grandstand Arena to listen to three-time GRAMMY winner Zac Brown Band preform live (separate ticket required).
BBQ Lunch tickets are $8/pre-sale and $10/door and BBQ Dinner tickets are $20/pre-sale and $25/door. To purchase Cattlemen and Farmers Day tickets, contact the Administration office at (805) 239-0655. Zac Brown Band tickets are still available online atwww.MidStateFair.comor by calling 1-800-909-FAIR.
The 2017 California Mid-State Fair runs July 19 through July 30. This year's theme is "Come One, Come All!"