Thursday, July 20th, 2023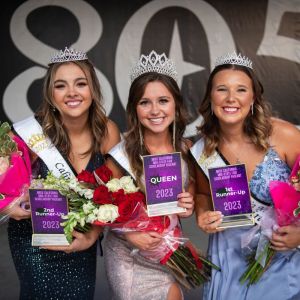 The California Mid-State Fair is pleased to announce that 20-year-old Kerrigan Jensen, of Santa Margarita, has been crowned the 2023 Miss California Mid-State Fair Queen. 18-year-old Jenna Wilshusen of Paso Robles was the 1st Runner Up, 17-year-old Natalie Boyd of Paso Robles was 2nd Runner Up.
Kerrigan Jensen will be transferring to West Texas A&M as a Junior. Her hobbies are welding, gardening, riding horses, running, hiking, and fishing. She is affiliated with Santa Margarita de Cortona Catholic Church. Some of her achievements include: SLO County 4-H Youth of Distinction, Presidential Service Award, Scholar Recipient at Church, Magna Cum Laude, and Atascadero Choices in Education Award of Excellence. Her talent was a presentation on welding. Her Fair Proposal was a children's vegetable seedling station on Kids Day. It will be a place where kids will have the chance to learn the process of growing their own vegetables and promote the importance of agriculture in a fun way.
For a complete list of attractions happening each day of the 2023 California Mid-State Fair, please visit www.MidStateFair.com.
The 2023 California Mid-State Fair runs July 19 through July 30 and this year's theme is "Shake, Rattle & Roll!" Connect with us on Facebook, Instagram, Twitter and TikTok.
(PHOTO CREDIT) Brittany App