Monday, June 19th, 2023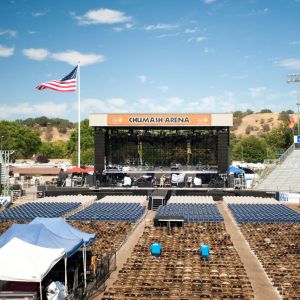 The California Mid-State Fair is pleased to announce all the special guests joining our stacked lineup this summer. Some dates do not include a special guest and are noted below. Tickets for all the Grandstand Arena concerts are on sale now at www.MidStateFair.com.
7/19/23 – Annie Bosko will open the show for Tim McGraw. A California farmer's daughter and the middle of five children, Annie Bosko has been praised by Rolling Stone magazine as an artist to watch. From writing songs for legends like Willie Nelson, to performing onstage with Adele and Darius Rucker, Annie has worked with the "greats".
7/20/23 – Jon Foreman will open the show for Lauren Daigle. Jon is the lead singer and founding member of the Grammy Award winning alt-rock band SWITCHFOOT. Jon's latest release and first live album "Roll Tape: Live At Melody League Studios" is available now.
7/21/23 – Jet Black Roses will open the show for Sammy Hagar. Often described as rock and roll with a country soul, Jet Black Roses combines the intensity of such rock legends as Tom Petty and Aerosmith with the storytelling sensibilities of country stalwarts like George Strait and Alan Jackson.
7/22/23 – Lou Gramm will open the show for The B-52's. Gramm was the lead vocalist on all of Foreigner's hit songs, including "Feels Like the First Time", "Cold as Ice", "Long, Long Way from Home", "Hot Blooded", "Double Vision", "Blue Morning, Blue Day", "Head Games", "Dirty White
Boy", "Urgent", "Juke Box Hero", "Break It Up" and "Say You Will". He co-wrote most of the songs for the band, which achieved two of its biggest hits with the ballads "Waiting for a Girl Like You", which spent ten weeks at #2 on the 1981-82 American Hot 100, and "I Want to Know What Love Is", which was a #1 hit internationally (US & UK) in 1985.
7/23/23 – Conner Smith will open the show for Luke Bryan (SOLD OUT). Just 22 years old and already a seasoned veteran of Nashville's elite songwriting community, Conner Smith has become one of Country's most hotly-anticipated new artists – an uncommon talent mixing prime-of-life passion with old-soul perspective.

7/24/23 – T.I. will open the show for Nelly. Labeled the Jay-Z of the South by Pharrell Williams and the creator of Trap Muzik, T.I. undoubtedly possesses all the qualities and has the accolades to back them up as an artist, songwriter, philanthropist, and entrepreneur. With over 35 million followers on social media, 3 Grammy Awards and 4 #1 hit records, and 11 top ten hits like "Dead and Gone", "Live Your Life", and "Whatever You Like" under his belt, it's easy to see why T.I. has enjoyed continued success as a recording and touring artist for the last 20 years.
7/25/23 – Ian Munsick will open the show for Parker McCollum. Breathing fresh Rocky Mountain air into the Nashville music scene, Ian Munsick is pioneering a new brand of country. The Wyoming-born singer / songwriter's upbringing was a mix of working the ranch and working crowds. Under the tutelage of their fiddle-playing father, Munsick and his two older brothers grew up playing everything from bluegrass to The Beatles. Captivated by traditional lyrical truth and the modern soundscape, Munsick followed his ear to Music City. The recent releases of "Long Live Cowgirls" (with Cody Johnson), "More Than Me," and "Horses & Weed" are ushering in the next chapter of his musical saga...and fans are finding that, with Ian Munsick, western country is reborn.
7/26/23 – Let's get the party started with a Live DJ opening the show for PITBULL.
7/27/23 – Los Tucanes de Tijuana will not have an opening act and will take the stage at 7:30 pm.
7/28/23 – Styx will not have an opening act and will take the stage at 7:30 pm.
The 2023 California Mid-State Fair runs July 19 through July 30 and this year's theme is "Shake, Rattle & Roll!" Connect with us on Facebook, Instagram, Twitter and TikTok.