Tuesday, March 28th, 2023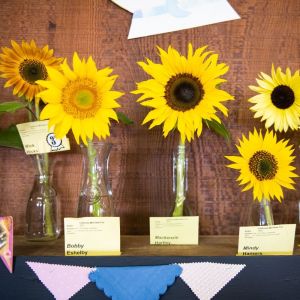 It is time to enter! The 2023 Horse Show, Livestock and Still Exhibit Competition Handbooks are now available on the official California Mid-State Fair website.
The Adult and Youth Still Exhibits include departments like Fine Arts, Flowers, Farm Art, Home Arts, Photography and Produce. This year's featured contests are Apple Pie Baking, Best Themed Floral Arraignment, Best Decorated Themed Cake, Best Decorated Lawn Flamingo, Salsa Making, and Best Themed Slot Machine (Special Stars). Exhibitors have a chance to win up to $500.00!
All Still Exhibits entries are judged, awarded, and displayed during all twelve days of the Fair for the community to enjoy. The deadline to enter is Tuesday, June 6, 2023, for all departments except for Ag Horticulture and Floriculture which is Tuesday, July 11, 2023.
Horse Show events include the Wrangler Country Rodeo presented by Hearst, Cutting, Reined Cow Horse, RSNC Sorting and 4H/FFA shows. Entry forms and fees are due by Thursday, June 29, 2023, to the Fair's Administration Office located at 2198 Riverside Ave., Paso Robles, CA.
Livestock includes Market, Breeding, Dairy and Small Animals. Entries are due by June 7, 2023, and can be completed online at https://cmsfl.fairwire.com.
The 2023 California Mid-State Fair runs July 19 through July 30 and this year's theme is "Shake, Rattle & Roll!" Connect with us on Facebook, Instagram, Twitter and TikTok.