Tuesday, September 28th, 2021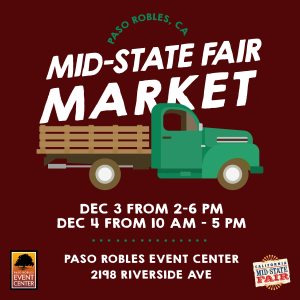 The Mid-State Fair Market is BACK! TWO DAYS ONLY!
Free admission and free parking!
Get your Holiday Shopping done all while helping to support locals! We've added one more opportunity before the end of the year to grab something new, used or just unique at this outdoor shopping opportunity held at the Paso Robles Event Center. Find antiques, new items, used items and handmade items from local artisans and crafters as holiday gifts or gifts for yourself!

Enjoy food and a glass of wine or beer while you shop too!

Dates:
Friday, December 3, 2021 from 2:00 pm-6:00 pm
Saturday, December 4, 2021 from 10:00 am-5:00 pm
Location:
Paso Robles Event Center Frontier Park and surrounding areas, 2198 Riverside Avenue, Paso Robles, CA. Parking is in Lot C off Gregory Avenue and the Fair's parking lots off Riverside Avenue.
Vendor Information – Commercial
● Space Sizes: 10'x20'
● Cost: $50 per space (includes both days) - Not provided: Tents, tables or chairs. Electricity is available for select spaces for an additional fee.
● Additional Optional Fees: $10 per 8-foot table rental, $2 per folding chair rental, $20 access to electricity (available at specific spaces only), $25/$35 general liability insurance through CFSA
● Requirements: State of California Seller's Permit (for all tangible goods, direct services are excluded), San Luis Obispo County Health Permit (for all consumable items), General Liability Insurance and PREC Rental Agreement (provided once approved). All current County health and safety regulations must be adhered to.
● Vendor setup begins at Noon on Friday and 8:00 am on Saturday. Teardown must be completed no later than 6:00 pm on Saturday. The Fair does not have guard service or overnight staff, Vendor assumes all risk for any items or property left overnight.
● Vendor is responsible for any and all sales tax reporting.