Monday, March 27th, 2017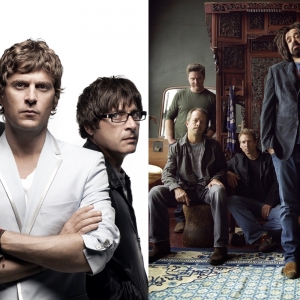 Two of music's most loved bands and biggest hit makers are joining up for an epic summer tour. Multi- platinum selling bands Matchbox Twenty and Counting Crows have announced "A Brief History of Everything Tour 2017". The tour will stop in Paso Robles at the California Mid-State Fair on Saturday, July 22, with Counting Crows hitting the stage at a special start time of 7:00 pm.
Presale tickets and VIP packages for "A Brief History of Everything Tour 2017" will be available to members of both bands' fan clubs beginning Tuesday, March 28th and to the general public starting Friday, March 31st. For complete details, please visit matchboxtwenty.com and countingcrows.com.
Ticket prices for the show are $41, $56, $71 and $96 and will go on sale to the general public Friday, March 3, 2017. Tickets will be available starting at 10:00 am online at www.MidStateFair.com or by calling 1-800-909-FAIR, and at 1:00 pm at the California Mid-State Fair box office (2198 Riverside Avenue in Paso Robles) or any ValliTix location.
"No matter what I will ever do, nothing feels like home as much as playing these songs with these guys and it never will," says Matchbox Twenty lead singer-songwriter Rob Thomas. "And I can't wait to spend another summer out there on the road with the Crows." Thomas previously teamed with Counting Crows for a hugely successful 2016 summer co-headline tour.
"To be honest, we took a vote after last year and decided to spend every summer with Rob from now on," says Counting Crows' Adam Duritz. "Can. Not. Wait."
This year celebrates the 20th anniversary of Matchbox Twenty and their breakthrough debut album "YOURSELF OR SOMEONE LIKE YOU," currently certified 12x platinum by the RIAA for sales well in excess of 15 million worldwide. Fueled by such classic singles as "Real World," "Back 2 Good" and the #1 smash hits "Push" and "3AM," the album proved a worldwide sensation and instantly established Matchbox as global superstars. Since then Matchbox Twenty has achieved cumulative worldwide album sales over 30 million and earned multiple #1 singles including "Bent", "Unwell" and "If You're Gone" along with countless accolades including five GRAMMY® nominations, four American Music Award nods, and the 2004 People's Choice Award for "Favorite Musical Group." 2007's "EXILE ON MAINSTREAM" yielded RIAA-certified Platinum and #1 single "How Far We've Come," while the band's most recent album "NORTH" exploded into the #1 position on the SoundScan/Billboard 200 upon its 2012 release – Matchbox Twenty's first-ever chart-topper and #1 debut. Matchbox Twenty is: Rob Thomas, Paul Doucette, Kyle Cook, and Brian Yale.
Counting Crows – Adam Duritz (vocals), Jim Bogios (drums), David Bryson (guitar), Charlie Gillingham (keyboards), David Immergluck (guitar), Millard Powers (bass), and Dan Vickrey (guitar) – have sold more than 20 million albums worldwide after exploding onto the music scene with their multi-platinum breakout album "AUGUST AND EVERYTHING AFTER" in 1993. The band released their seventh studio album, "SOMEWHERE UNDER WONDERLAND," in September 2014. Known for creating unique and innovative concerts, Counting Crows is recognized as one of the pre-eminent touring live rock bands.