Monday, June 17th, 2019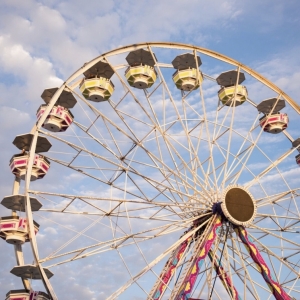 (PASO ROBLES, CA) – For the first time in the history of the California Mid-State Fair, all carnival rides on Opening Day of the 2019 Fair will be FREE! The California Mid-State Fair is teaming up with Helm & Sons Amusements to offer FREE carnival rides to all patrons on Wednesday, July 17, 2019. Just pay normal Fair admission and that's it: no need for wristbands, coupons or tickets on Opening Day!
The gates and carnival open at Noon on Wednesday, July 17, 2019, and don't close until Midnight. Of course, normal height and size restrictions still apply, but everyone rides for free in the Main Carnival and Cub Country! And yes, this does include the Big Splash water ride!
The promotion does not include normal Fair admission, and does not include attractions in the Fun Zone or Rancho Frontier. It does not include any games, as those will be "pay-as-you-play" as usual, and cannot be combined with any other promotion or discount.
"We are pleased to offer this opportunity for all fairgoers. It certainly becomes a significant savings to families wanting to enjoy more time at the Fair", said CEO Michael Bradley.
The 2019 California Mid-State Fair runs July 17-28 and this year's theme is "Let's Have S'More Fun!" Connect with us on Facebook, Instagram, Twitter, Snapchat and YouTube.