Friday, June 7th, 2019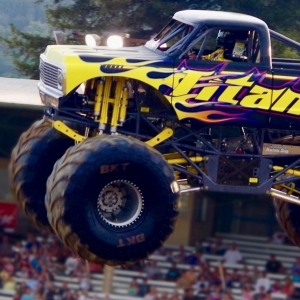 PASO ROBLES, CA) – The California Mid-State Fair is pleased to announce "Monster Trucks with Bikes & Bulls", slated for Sunday, July 28, 2019. The action-packed event will take place in the Chumash Main Grandstand Arena starting at 7:00 pm.
The non-stop, action-packed evening of thrills will feature three monster trucks from StraightUp Racing, including: (1) the legendary Titan, with a '72 Chevy body style and driven by Donald Ependindio… (2) Spitfire, with a custom 3-D Dragon body that shoots fire and driven by Dwight Matthews… (3) Wild Flower, with a '34 Ford truck body style and driven by Rosalee Ramer.
Also spotlighted will be the Internet sensation Major Payne Monster Tank, and the Zombie Tracker Monster Ride Truck. Fans will have a chance to be a part of the up-close and personal pre-show "Pit Party" where they can walk into the arena and stand next to these mechanical giants, plus take part in the monster truck ride!
In addition, fans will be treated to motocross featuring Pee Wee & Pros brought to you by Brett Butterfield and professional bull riding brought to you by Flying U Rodeo Company.
The event is being set up to move at an almost frantic pace from one event to another and back again, a.k.a. the "non-stop" action. Speciality events will also be mixed in throughout the night including "Blind Man's Bull Poker" and nationally acclaimed rodeo clown Matt Merritt.
Tickets for "Monster Trucks with Bikes & Bulls" will go on-sale Friday, June 14 at $20/Adult (13+ years old) and $10/Child (3-12 years old). The price will increase to $25/ticket the day of the event. Tickets can be purchased online at www.midstatefair.com, by calling 1-800-909-FAIR, or at the Fair Box Office located at 2198 Riverside Avenue in Paso Robles.
The 2019 California Mid-State Fair runs July 17-28 and this year's theme is "Let's Have S'More Fun!" Connect with us on Facebook, Instagram, Twitter, Snapchat and YouTube.