Monday, September 12th, 2016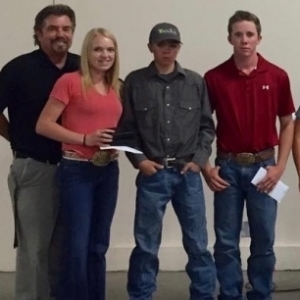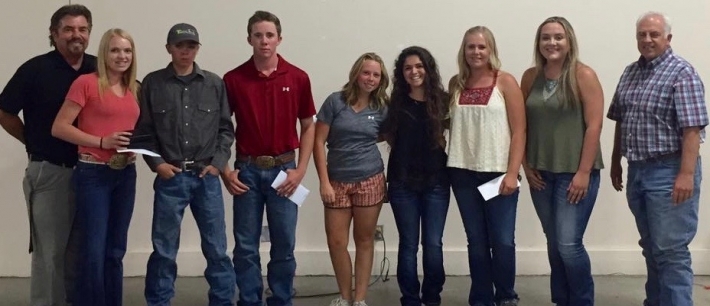 L-to-R: (Mark Clement, Jesslyn Blank, Trevor Straeck, Jake Walker, Mattie Lindsey, Sarah Sandoval, Tabitha Vander Hors, Katie Taylor, Michael H. Bradley, CEO)
PASO ROBLES (CA) – The 2016 Carcass Class Dinner and Awards were held Thursday, September 1st at the Paso Robles Event Center. All market steers entered into the 2016 fair were eligible for competition, with carcasses being graded at harvest facilities by USDA graders. To be eligible for carcass awards, all carcasses must have graded USDA Select+ or higher.
Here are the Top 10 award recipients:
Jesslyn Blank Templeton FFA - Jesslyn Blank, Templeton, CA - 1st Place / Gold Seal $785
Jess Wilson Parkfield 4-H - Cory Reid, Wheatland, CA - 2nd Place $730
Trevor Straeck Atascadero FFA - Hyder Cattle, Springville, CA - 3rd Place $680
Camryn Roth Templeton FFA - Cal Cherry, Paso Robles, CA - 4th Place / Gold Seal $630
Tabitha Vander Horst Edna 4-H - Colburn Cattle Co, Visalia, CA - 5th Place / 4-H CH X-Bred C of M $580
Katie Taylor Templeton 4-H - Joe Simonin, Templeton, CA - 6th Place / C of M $525
Sarah Sandoval Morro Bay 4-H - Rocking D-C Ranch, San Luis Obispo, CA - 7th Place $475
Mattie Lindsey Templeton 4-H -John Whitson, Templeton, CA - 8th Place / Gold Seal $425
Casey Nauta Atascadero FFA - Greg Nauta, San Luis Obispo, CA - 9th Place / C of M $375
Jake Walker San Luis Obispo FFA Silva Cattle, Kingsburg, CA - 10th Place / C of M $325
A BIG thank you to this year's Carcass Sponsors include: Atascadero Trail Riders, Cagliero Ranches, Ray Dauth, Estrella Ranch, Farm Supply, H&H Plumbing, JB Dewar, Jr. Livestock Support Club, Mark Switzer Excavation, Paso Robles Waste, San Miguel Flouring, Jim & Debbie Saunders, Simonin Livestock, SLO Cattlemen's Association, Specialty Silicone Fabricators and Visalia Livestock Market.