Wednesday, April 18th, 2018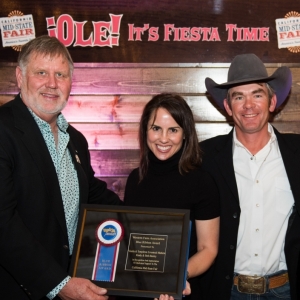 PASO ROBLES (CA) – Randy and Beth Baxley were honored with the Western Fairs Association (WFA) Blue Ribbon Award for Service at the California Mid-State Fair annual dinner. The Blue Ribbon Award honors those individuals or groups who have provided outstanding support to the fair industry. Those recognized include volunteers, groups, sponsors and educators.
For more than 20 years, Randy and Beth Baxley have traveled to Paso Robles to run the replacement heifer and junior livestock auctions at the Mid-State Fair. The Baxley's have owned Visalia Livestock Market since 1994, and previously operated Templeton Livestock Market until it's closing in 2014. They are both members of the Livestock Marketing Association (LMA) and the California Livestock Markets Association (CLAMA).
The Baxley's enjoy returning to the Central Coast each summer to give back to the agriculture industry and support the next generation. Randy runs the sale along with his team of professional ring men, while Beth works behind-the-scenes to make sure the auction runs smoothly.
"I can't think of a more deserving couple to receive the Western Fairs Association Blue Ribbon Award," JoAnn Switzer, Mid-State Fair Livestock Superintendent, said.
The 2018 California Mid-State Fair runs July 18-29 and this year's theme is "Ole, It's Fiesta Time!" Connect with the California Mid-State Fair on Facebook, Instagram, Twitter and Snapchat.